I do not know like it goes for you, but sometimes one can use a relaxation evening in the middle of a busy week to get some energy. Exactly for this purpose I have visited this week for the first time the thermal bath & spa in the Hürlimann Areal in Zurich. The former area of the brewery Hürlimann is located near the railway station Zurich Enge and, besides, is accessible from the central station by the tram No. 13 at 10 minutes.
Althammer Hochuli Architekten architects have converted this old vault in cooperation with the interior designer Ushi Tamborriello into a modern and incredibly elegant thermal bath. Besides, the most spectacular part is probably the 35° warm pool on the building's rooftop from where one enjoys a panoramic look all over Zurich.
It's better to visit the bath on weekdays as during weekends it can easily get overcrowded as everybody likes to go there after shopping. A normal entry costs 32 CHF. However, we have allowed ourselves an Irish-Roman spa ritual and have paid for it 55 CHF (no time limits). Besides, the following is included: Thermal bath entry / bathrobe / peeling / tea and water
The Irish-Roman area is also no naked zone (what is kind of unusual) and on Tuesday, besides, is women's evening.
The whole "ceremony" includes different herbal steam saunas where one sweats substantially and afterwards there are rest areas and mineral water baths. The area is furnished in my opinion very elegant. I found especially nice, that one still saw everywhere the old vault structures and the modern elements were integrated symbiotically into it.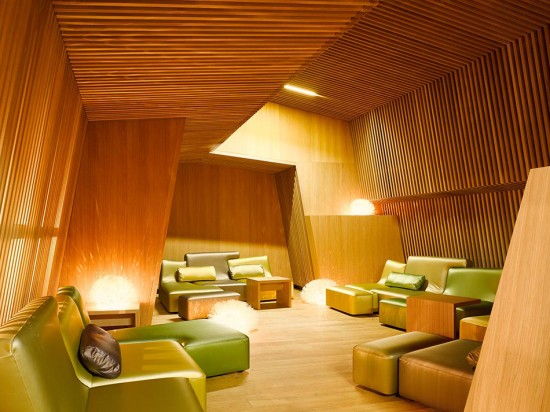 After the Irish-Roman ceremony we were totally relaxed and then enjoyed for the end the miraculous view of the roof pool on illuminated Zurich. I could spend hours in this pool just enjoying the view.
I don't know like it goes for you, but after a spa I'm always very hungry. Just towards from Hürlimann spa it has a great Spanish Tapa bar (Juan Costa). Therefore, we ended this very relaxing evening with some very tasty Spanish food. I would rate this as perfect midweek break.
As I was there for some relaxation, I didn't bring my camera with me so I used photos from the following sites. However, next time I really have to take some pictures by my own as the rooftop view is amazing and need to be captured.
Bild 1: Aqua-Spa-Resorts
Bild 2: NZZ Interior Design
Bild 3: Swiss Architects